PRODUCT TIMELINE NOTE:
The X4S line isn't mass-produced. There are no pre-built X4S units on hand. Every X4S purchased will be hand built by our senior engineer only once ordered.
Please contact MKT@cycleagle.com or use the chat app for the latest build timelines.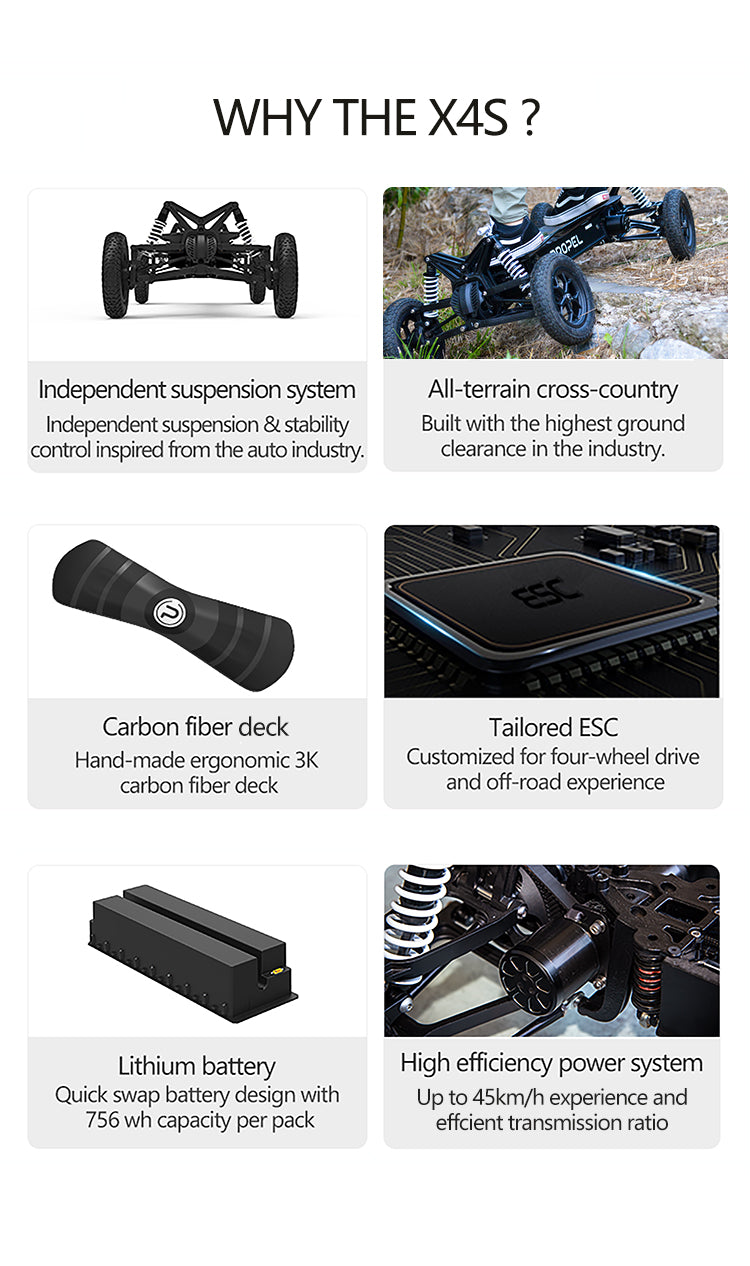 SHIPPING
All X4S order before 3, Sep have been shipped out.

Order from 3, Sep to 31st, Oct will be shipped out from HQ around 6th, Nov.
Order from 1st, Nov will be shipped out from HQ at early Dec.
Sea shipping takes 35-45 working days. Please kindly notice that the Sea shipping to Canada takes around 50 working days. Air shipping takes 15-25 working days.
SPECS
2021 X4S

Basic Specifications
Length

46.4 inches/1180mm

Width

22 inches/560mm

Height

13.8 inches/352mm

Wheel Size

10 inches/254mm

Ground Clearance

155mm/6.1inches

Maximum Payload

264lb/120kg

Chassis

Alloy Multilink Independent suspension

Tyre pressure

2bar/29psi

Board weight

60lb/27kg

Electrical Control
1 fast swap battery pack range

27km/17miles

2 fast swap battery packs range
54km/34miles
Battery

21Ah

/756Wh

Battery weight

8.81lb/4kg

Shock absorber

Adjustable 

150lb coil over shocks

Motors
4x6374 brushless motors 
/Each motor has a maximum theoretical output of 3000w
Transmission

4xBelt Drive

Hill Climb

35%

Recharge Time

5hrs

Top Speed

45kph/27mph

Brakes

Regenerative braking

Manipulation Mode
Remote Controller

Wireless 2.4G

Speed level
Low:7km/h;
Middle:17km/h;
High:45km/h;


Pro:35km/h(High torque)

Cruise control

✔

Controller High Voltage Protection

✔

Low Voltage Return Warning

✔

Remote Control Low Voltage Display

✔

Motor High Temperature Warning

✔